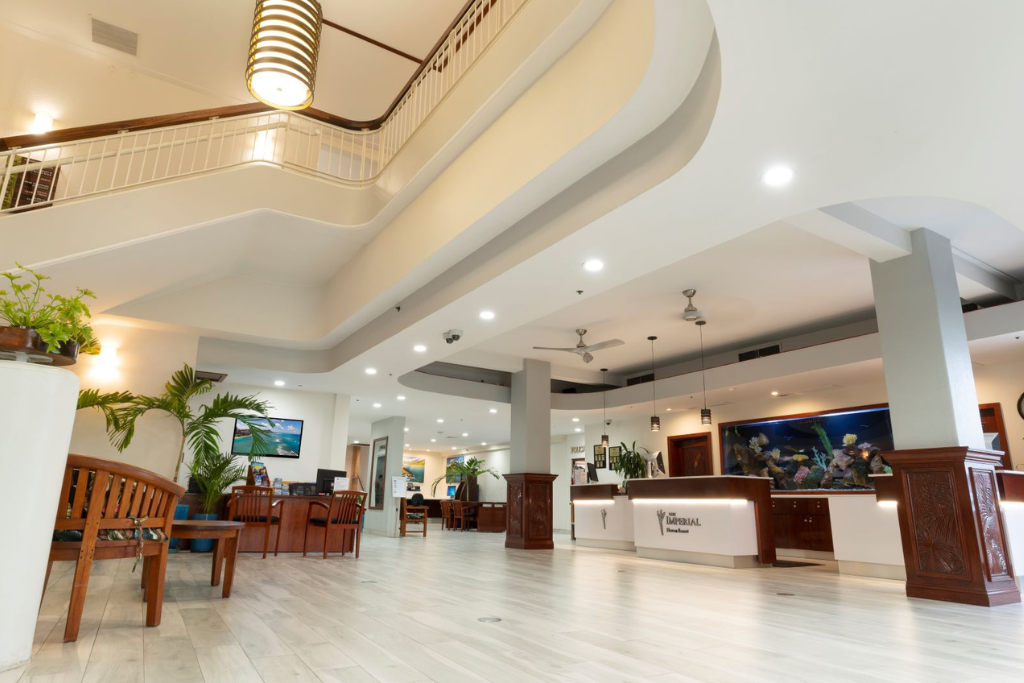 2022 RCI Silver Crown Resort Award
The Imperial Hawaii Resort Awarded with the RCI Silver Crown Resort® Award Based on Guest Feedback
Timeshare Resort honored for the fourth year in a row for providing outstanding vacation experiences (2019, 2020, 2021 & 2022)
The Imperial Hawaii Resort has been awarded the prestigious RCI Silver Crown Resort award by RCI, the worldwide leader in vacation exchange.
Resorts that have provided outstanding vacation experiences for RCI exchange guests are honored with this prestigious award. These resorts have met quality and service standards based on ratings from RCI Subscribing Member Comment Cards.
"It is such an honor to see the efforts of our staff being recognized by our valued guests. While we know how hard they work, it is truly rewarding to see that others recognize their hard-earned efforts. Mahalo from all of us at the Imperial Hawaii Resort for allowing us to be your 'home away from home'." -Bryan Ayakawa, Resort Manager, The Imperial Hawaii Resort.
"We are thrilled to recognize those who have attained the RCI Silver Crown designation, and we are proud to be affiliated with The Imperial Hawaii Resort," said Fiona Downing, senior vice president of global strategic growth for RCI. "As the worldwide leader in vacation exchange, RCI holds high standards for our affiliated resort properties and the RCI Resort Recognition Program helps set important standards to ensure these resorts consistently deliver fantastic vacation experiences to RCI subscribing members."
About The Imperial Hawaii Resort
The Aloha spirit is alive and well at The Imperial Hawaii Resort & Vacation Club!
The Imperial Hawaii Resort is just steps away from world-renowned Waikiki Beach, and the renewed Waikiki Beach Walk in the heart of the city's dining, shopping, and entertainment epicenter. This legacy property has been thoughtfully restored toward reviving its original feel and vintage "Hawaiian Style" while perpetuating the true meaning of Ohana.
The Imperial Hawaii Resort boasts 252 condo-style suites with 5 different suite types, each with a mini kitchenette or full kitchen. Within this Waikiki Beach resort, is a premier timeshare property of Honolulu, The Imperial Hawaii Vacation Club. Owners often describe this resort as their "Home away from Home". The 27th-floor rooftop pool offers amazing views of Honolulu and the 26th-floor exclusive Owners' Lounge offers panoramic views of Waikiki, Honolulu, the mountains of Oahu, and the Pacific Ocean. Guests may enjoy the sauna, fitness room, outdoor hot tubs, and massage therapy. The resort's on-site amenities also include a restaurant, convenience store with deli, specialty boutiques, a surf shop, and a concierge/activity desk in the lobby.
The Imperial Hawaii Resort is committed to providing a high-quality vacation experience, and its goal is to treat all Vacation Club Owners and Hotel Guests with the true kama'aina spirit of hookipa: courtesy, respect, and hospitality.
E Komo Mai, welcome home.