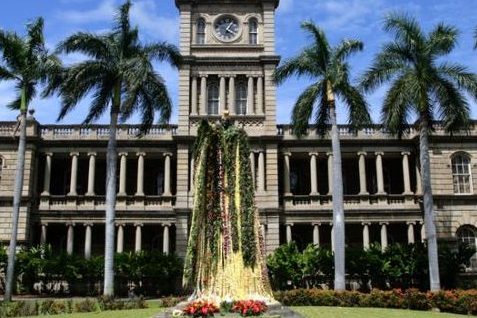 King Kamehameha Celebrations in 2023
The people of Hawai'i originally wanted to celebrate the legacy of Lot Kapūaiwa (Kamehameha V) on his birthday, December 11, but being the humble man that he was, he opted to honor his grandfather instead. He pushed the holiday as far away from his (Lot's) birthday as possible, to an arbitrary date in June. June 11, 1872, was the very first Kamehameha Day holiday ever celebrated.
Situated in the heart of Waikiki, The Imperial Hawaii Resort boasts an enviable location that puts you right in the midst of all the action. Whether you're seeking sun-soaked beaches, diverse dining options, vibrant nightlife, or cultural parades and events, everything is just a short distance away. This weekend (June 9 & 10, 2023) you can enjoy celebrating King Kamehameha Day!
King Kamehameha Statue Lei Draping
Friday, June 9, 2:30 to 5 p.m.
The annual lei draping ceremony begins with a Royal Hawaiian Band performance. Various royal societies, government entities, and sponsors will be present to deliver lei.
Aliʻiolani Hale, 417 South King Street
106th King Kamehameha Celebration Floral Parade
Saturday, June 10, 9 a.m. to 1 p.m.
The route begins at King Street in front of 'Iolani Palace, through Punchbowl Street, Ala Moana Boulevard, Kalākaua Avenue, and ends at Monsarrat Avenue and Kapi'olani Park. Note that streets will begin to close in Downtown Honolulu at 7:30 a.m. The parade is expected to reach Kapi'olani Park around 11:30 a.m.
'Iolani Palace to Kapiʻolani Park
King Kamehameha Celebration Ho'olaule'a
Saturday, June 10, 11 a.m. to 5 p.m.
Event at Kapi'olani Park with food, music, hula, cultural activities, games, education, demonstrations, and workshops.
Schedule of the live entertainment:
11 a.m. Alan Poki (45 min)
12 p.m. Liam Moleta, On the Rise Artist w/ the Henry Kapono Foundation (30 min)
12:45 p.m. Kaealani's Hula 'Ohana (30 min)
1:30 p.m. Kalehua Krug (45 min)
2:30 p.m. Hālau Hula Olana (45 min)
3:30 p.m. Makaona Hawaiian Hula (30 min)
4:15 p.m. Mailani (45 min)
Kapi'olani Park, 3840 Paki Ave.
Link to more event information: kamehamehaday.hawaii.gov