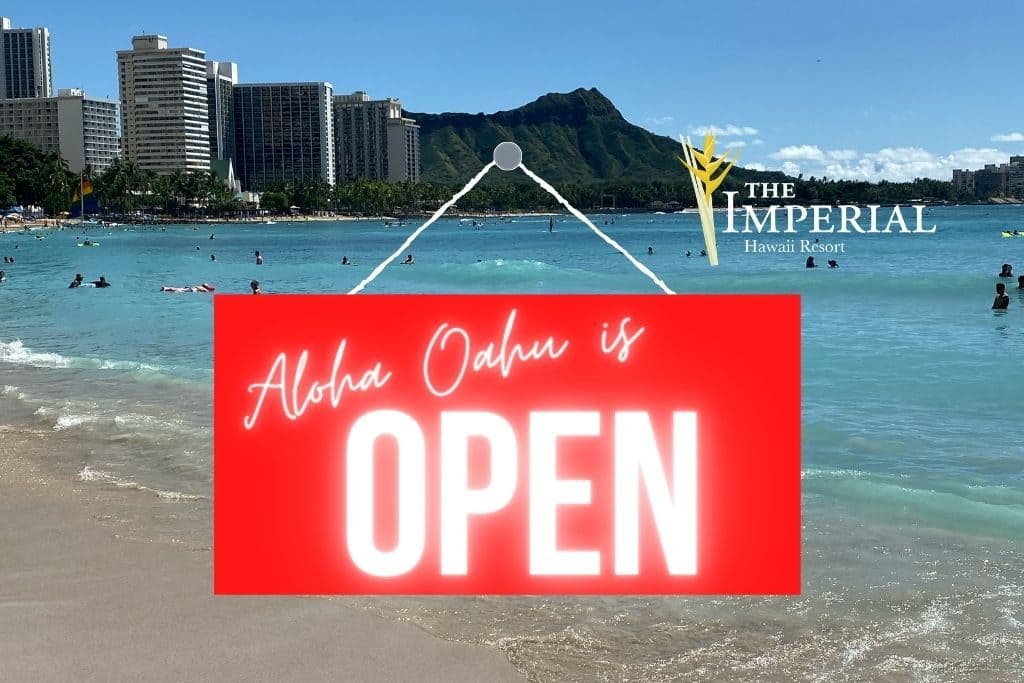 Welcoming Guests with Aloha
We are excited to welcome everyone back to the island! Here are a few tips about traveling to Oahu and how to avoid quarantine…
Hawaii will allow travelers entering the state from the U.S. mainland and its Territories who have been fully vaccinated in the United States to bypass quarantine without a pre-travel test. Travelers will need to upload the vaccination record document to the state's Safe Travels website prior to departure AND have a hard copy in hand when arriving in Hawaiʻi.
(This program is only available to travelers who were vaccinated in the United States. Travelers are considered fully vaccinated on the 15th day after the completion of their vaccine.)
Travelers who are not vaccinated (or if you were not vaccinated in the United States) may still bypass the 10-day mandatory quarantine by taking a pre-travel test. Tests must be taken with trusted testing and travel partners within 72 hours before the departure of the final leg of your flight. The negative test result must be uploaded onto the Safe Travels website prior to departure. (It is also recommended that you print out a hard copy as well.) Within your account on the Safe Travels website, you will find a health questionnaire that needs to be filled out within 24 hours of the last leg of your flight. After your negative results have been uploaded and you have completed your questionnaire, a QR code will be emailed to you. Keep this handy, you will need to show this QR code at the airport.
Travelers without a negative test result or U.S. vaccination prior to boarding the final leg of their flight MUST quarantine for 10 days or the length of their stay, whichever is shorter.
After you make airline reservations, what's the first step you take to prepare for your Hawaii trip? All adults (18 years and older) must register on the state of Hawaii Safe Travels website. You will be required to upload your vaccination record or negative pre-travel test result and answer a health questionnaire. Each child traveling with an adult should be included in the adult's Safe Travels form. Minors five years and older must take the pre-travel test. The traveler is responsible for the cost of the pre-travel test.
The state of Hawaii will ONLY accept test results from TRUSTED TESTING AND TRAVEL PARTNERS. How can travelers access the ONLY tests accepted by the state of Hawaii, the TRUSTED TESTING AND TRAVEL PARTNERS?
An updated list of the trusted testing and travel partners is available on the Hawaii State Department of Health COVID-19 Website.
This website includes DOMESTIC TRANS-PACIFIC TRUSTED TESTING PARTNERS Click Here
Travelers, including those from Japan, Canada, Korea, Taiwan, and Tahiti may bypass the State of Hawaii's mandatory 10-day quarantine by securing a pre-travel test from a trusted testing and travel partner 72 hours prior to departure on the final leg of their journey to Hawai'i. Travelers who do not secure a negative COVID-19 test BEFORE departure will be subject to the mandatory 10-day quarantine. Vaccine card exemption is not currently available for travelers who were vaccinated outside of the United States.
The negative test result must be uploaded onto Safe Travels prior to departure and it's also recommended to have a hard copy in hand when arriving in Hawai'i.
For travelers from Canada, please visit https://hawaiicovid19.com/travel-partners/#partners-canada
For travelers from Japan, please visit https://hawaiicovid19.com/travel-partners/#partners-japan
For Travelers from Korea, please visit https://hawaiicovid19.com/travel-partners/#partners-korea
For travelers from French Polynesia, please visit https://tahititourisme.com/en-us/returningtohawaii/
MASK MANDATE FOR THE ISLAND OF OAHU: Masks are required everywhere when you are indoors. As of 5/25/21 you no longer need a mask when you are outside. Please keep following social distancing guidelines. www.oneoahu.org/masks
DO YOU NEED HELP NAVIGATING THE SAFE TRAVELS WEBSITE?
FOR DETAILED INSTRUCTIONS ON HOW TO SET UP YOUR ACCOUNT, CREATE A TRIP, UPLOAD TEST RESULTS OR VACCINE CARDS, AND MORE
NEW…SAFE ACCESS OAHU: VACCINE PASSPORT PROGRAM
*Effective Sept. 13, 2021 customers entering restaurants, bars, gyms, and other establishments need to show proof of vaccination or a negative COVID-19 test taken within the last 48 hours. The new program is scheduled to last 60 days. All employees must also show vaccination or submit weekly tests. Children under 12 will be exempt.
CUSTOMERS WHO DO NOT CARRY THEIR PHYSICAL COVID VACCINATION CARD MAY ALSO SHOW A PHOTO OF IT. THOSE REMAINING 15 MINUTES OR LESS IN AN ESTABLISHMENT ARE EXEMPT.
VIEW FULL DETAILS ON THE SAFE ACCESS OAHU WEBSITE: CLICK HERE
The Imperial Hawaii Resort in Waikiki is your home away from home, and our mission statement reflects our core values: We are committed to providing a high-quality vacation experience, and our goal is to treat all Vacation Club Owners and hotel guests with the true kamaʻaina spirit of hoʻokipa: courtesy, respect, and hospitality. This guides us as we face the difficult challenge of responding to COVID-19.
Our most important wish is for you to be safe and healthy. Kākou is the Hawaiian value of inclusiveness. It means "all of us" and "we are in this together." We would like to take this opportunity to thank you in advance for putting your trust at the Imperial Hawaii Resort as you plan for future travels here to Hawaii. We can't wait to see you again and welcome you home!