Reservation Request
Aloha! Mahalo for considering The Imperial Hawaii Resort at Waikiki. We know you will enjoy your visit, and are looking forward to seeing you.
Take some time to meet and greet with our friendly Reservations Staff on your next visit!
To make a request for a reservation, please take a moment to complete our RESERVATION REQUEST INFORMATION.
News & Events
IMPERIAL NEWS
POOL DECK CONSTRUCTION
Please be advised that The Imperial Hawaii Resort will be undergoing a re-surfacing project on the pool deck, commencing April 4, 2016. The Pool and Pool Deck will be closed during the project. The project is estimated to take 8 weeks to complete. The pool deck area will also include fresh paint to complete the new look. Guests may experience noise that may be caused by the re-surfacing project. We apologize for any inconvenience this may cause to our owners and guests during this time.
We are excited to re-open the pool deck with this new look for our guests to enjoy. Our tentative completion time for this project is estimated to be within the first week of June 30, 2016. Again, we apologize for any inconvenience. Thank you for your understanding.
---
LOBBY RENOVATIONS
The Imperial Hawaii Resort is committed to improve and enhance our Front Desk and Lobby areas for our owners and guests to enjoy. We would like to inform you that we will commence our Front Desk and Lobby area renovation project on May 26, 2016 and expect to be completed by July 15, 2016. During this time, the Front Desk will be relocated to our Mezzanine (2nd floor) to assist with all services we provide.

We are confident that our owners and guests will be pleasantly surprised by the new look. We sincerely apologize for any inconvenience this may present to our owners and guests during the renovation period. We thank you for your patience and understanding during this time.
---
WAIKIKI EVENTS - JUNE 2016
50TH STATE FAIR
June 1-26, 2016
The 50th State Fair comes to Aloha Stadium for four weekends May 27th through June 26th. The 50th State Fair is one of the largest annual events in the state and provides affordable entertainment for Hawaii's families. Bringing thrills and excitement to its midway with rides, games, food, and fun. Featuring the Equinox which is a spectacular attraction brought over from the mainland special for the 50th State Fair. Riders will experience controlled flips as they are rotated 50ft above the ground on this spectacular thrill ride! Petting Zoo, the Amazin Anastasini Circus and more. Weekend of: June 3-5, 9-12, 17-19 & 24-26. Fridays: 6pm - midnight, Saturdays: 4pm-midnight, Sundays: noon-midnight and Thursday, June 9: 6pm - midnight. Aloha Stadium.
FIRST FRIDAY ART WALK - JUNE
June 3, 2016
First Friday is an evening art walk that takes place in Chinatown Honolulu. This is a popular fun event that takes place every 1st Friday of each month. Surrounding merchants of art galleries, shops, restaurants and bars are known for opening up their doors, pouring wine and providing food to those stopping by. Most neighborhood shops will have maps of participating merchants. The event ends at 9pm, but the fun continues into the night with thousands of people flocking into the streets. Location: Chinatown, 5pm-9pm.
BIGGEST LITTLE AIRSHOW IN HAWAII
June 4-5, 2016
This year's event will pay tribute to the 74th anniversary of the Battle of Midway. Each year, thousands of visitors drive onto Ford Island to experience remote control 1/5th scale warbirds, jets, and helicopters performing aerial stunts; candy bombings for the kids; aircraft displays; a kids' activity zone; prize drawings; and hangar tours. In addition to these activities, this year's event will also commemorate the Battle of Midway, a four-day sea and air battle that was the decisive point, turning the tide of WWII in the Pacific. Pacific Aviation Museum at Pearl Harbor.
HABILITAT'S 16TH ANNUAL LUAU, AUCTION & BENEFIT CONCERT
June 4, 2016
Habilitat's Luau is one of the biggest you can find anywhere on the island of Oahu. Come hungry! The live and silent auction features over 500 items including vacation getaways, jewelry, musical instruments, furniture, power tools, gift certificates and a huge selection of artwork. The auction items for this year's luau are updated regularly on our auction page. Live, local entertainment is going on from start to finish. This year catch The Rough Riders, Mike Love, Peni Dean, Malu Productions and more. Musicians, bands, hula halaus, Tahitian dancing and more grace the stage to share their art with you. Free activities for the kids include: face painting, inflatable bouncers, caricature drawings and more. 10am-4pm. Kualoa Ranch.
NORTH SHORE OCEAN FEST (5TH ANNUAL)
June 4, 2016
Celebrate World Ocean Day at an all-day family festival at Turtle Bay Resort. This free event is the annual fundraiser for the North Shore Ocean Education Coalition. The day will feature family games, food, entertainment and ocean education booths. For sale will be Ocean Fest T-shirts featuring designs by local celebrity artist Lauren Roth. All proceeds benefit the North Shore Ocean Education Coalition. 11am-4pm.
HAWAIIAN AIR PRESENTS MISS HAWAII 2016 – PRELIMINARIES
June 6, 2016
Miss Hawaii 2016 features our brightest and most beautiful! Thirty state finalists will vie for the coveted Miss Hawaii title and the opportunity to compete at Miss America in Atlantic City this September. Contestants representing Kauai, Maui, Molokai, Lanai, the Big Island and Oahu converge to compete and earn more than $500,000 in scholarship grants and tuition waivers. Miss Hawaii is part of the Miss America Organization which serves as the largest scholarship donor to women 17-24 years old in the world. Beauty, Style, Sophistication…. all here at Miss Hawaii 2016. 6pm-8pm. Hawaii Theatre.
KOOL AND THE GANG
June 7, 2016
Legendary disco group Kool and the Gang are coming to Hawaii for one night only. Founding members the Bell brothers, are still leading the group through their jazz, R & B, disco and modern electropop musical phases. Blaisdell Concert Hall. 8pm. $49.50-$99.50.
RAIATEA HELM PERFORMS AT THE ZOO
JUNE 8, 2016
Raiatea Helm kicks off the return of the Zoo's summer concert series, Wildest Show in Town. $3. Gates open at 4:30pm., Mini-guided turs offered to the first 30 people at 5:25pm. Music starts at 6pm. No alcohol or high-back chairs allowed. Honolulu Zoo.
KE KANI O KE KAI - BEN & MALIA, KAWIKA KAHIAPO & CHAD TAKATSUGI
June 9, 2016
Guests are encouraged to explore the Aquarium galleries that remain open throughout the evening and bring blankets/chairs to sit on the beach-front lawn – making this major fundraiser one of the best, and unique, ways to experience the Aquarium and Waikiki. Ben & Maila • Kawika Kahiapo • Chad Takatsugi. Waikiki Aquarium. Doors open at 5:30pm and concert begins at 7pm. Tickets $50, $20 for kids aged 5-12.
KING KAMEHAMEHA LEI DRAPING
June 10, 2016
The King Kamehameha statue fronting Ali'iolani Hale will be draped in multiple 30 foot lei, making for an amazing picture opportunity. The traditional lei draping begins with the Royal Hawaiian Band at 3pm. Honoring the revered monarch. The ceremony starts at 4pm. Parade on June 11th, 9am.
June 10-12, 2016
PAN-PACIFIC FESTIVAL
Performing arts showcase. Enjoy traditional Japanese song and dance. Performances and other cultural presentations from more than 25 groups from Japan and Hawaii. Waikiki Beach Walk Plaza stage. Times vary. Parade on Sunday, June 12th, down Kalakaua Boulevard. 5-7pm. Please visit www.pan-pacific-festival.com .
June 17-18, 2016
HONOLULU BBQ & BLUES FESTIVAL
This two-day festival is one of the new events supporting Mele Mai. Featuring the "winningest man barbeque, " Pitmaster Myron Mixon. Cost is $149 and includes two tickets to the Festival on Saturday and a goody bag. $20 admission to a huge BBQ on the Great Lawn of the Hilton Hawaiian Village.
June 22, 2016
ROY SAKUMA'S SUPER KEIKI AT THE ZOO
Roy Sakuma's Super Keiki performs at this weeks' Wildest Show in Town at the Honolulu Zoo. $3. Gates open at 4:35pm. Mini guided tours offered to the first 30 people at 5:25pm. Music starts at 6pm. No alcohol or high back chairs. www.Honoluluzoo.org.
June 26, 2016
THE CULTURE CLUB
BAMP continues to bring in everyone's favorite bands from the 80's. Don't miss that androgynous 80s icon, Boy George and the Culture Club as they revive their classic hits "Do you really want to hurt me". Tickets $69.50 - $125. Blaisdell Arena. 6:30pm. www.ticketmaster.com
---
IMPERIAL LOGO ITEMS
You spoke and we listened! We are bringing back our logo T-shirts and are also rolling out our new Dry Fit polo shirts!
T-Shirts - $16 + tax
Polo- $22 + tax
Tote Bags - $8 + tax
Shipping is available! Call us today at 1-808-923-1827 and get your logo items today!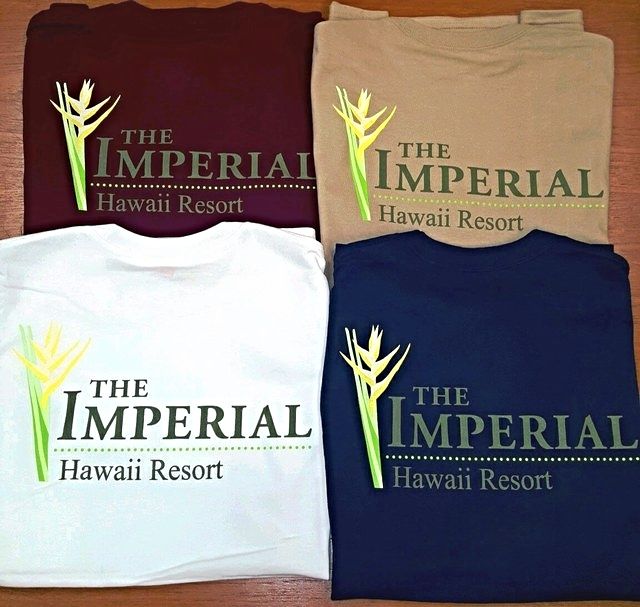 ---