Reservation Request
Aloha! Mahalo for considering The Imperial Hawaii Resort at Waikiki. We know you will enjoy your visit, and are looking forward to seeing you.
Take some time to meet and greet with our friendly Reservations Staff on your next visit!
To make a request for a reservation, please take a moment to complete our RESERVATION REQUEST INFORMATION.
News & Events
IMPERIAL NEWS
POOL DECK CONSTRUCTION
Please be advised that The Imperial Hawaii Resort will be undergoing a re-surfacing project on the pool deck, commencing April 4, 2016. The Pool and Pool Deck will be closed during the project. The project is estimated to take 8 weeks to complete. The pool deck area will also include fresh paint to complete the new look. Guests may experience noise that may be caused by the re-surfacing project. We apologize for any inconvenience this may cause to our owners and guests during this time.
We are excited to re-open the pool deck with this new look for our guests to enjoy. Our tentative completion time for this project is estimated to be within the first week of June 2016. Again, we apologize for any inconvenience. Thank you for your understanding.
---
LOBBY RENOVATIONS
The Imperial Hawaii Resort is committed to improve and enhance our Front Desk and Lobby areas for our owners and guests to enjoy. We would like to inform you that we will commence our Front Desk and Lobby area renovation project on May 26, 2016 and expect to be completed by July 1, 2016. During this time, the Front Desk will be relocated to our Mezzanine (2nd floor) to assist with all services we provide.

We are confident that our owners and guests will be pleasantly surprised by the new look. We sincerely apologize for any inconvenience this may present to our owners and guests during the renovation period. We thank you for your patience and understanding during this time.
---
WAIKIKI EVENTS - MAY 2016
CHANCE 'UM TOUR
May 27, 2016
Get ready for local humor at its best as Frank DeLima, Mel Cabang and Augie T join forces for this special presentation. Andy Bumatai was originally slated to perform but had to step down due to his recent cancer diagnosis. Hawaii Theatre. 7pm. $22-$42.
MELE AT THE MOANA FEATURING BROTHER NOLAND
May 27, 2016
The Moana Surfrider continues their concert series reminiscent of the long-running radio show "Hawaii Calls," under the famed banyan tree until at least July. "Mele at the Moana" features today's most popular performers on the Banyan Courtyard stage. Jimmy Borges was scheduled to perform this month buy due to declining health issues the talented Brother Noland will be taking the stage in his place 7pm-9pm.
TROY BARBOZA LAW ENFORCEMENT TORCH RUN
May 27, 2016
It will start at Ft. DeRussy on Maluhia Rd., To Kalia Rd., To Ala Moana Blvd., To Kalakaua Ave., To Kapahulu Ave., To Old Waialae Rd., To Kalei Rd., To Lower Campus Rd., To end at Les Murakami Stadium. 6:30pm-9pm.
NA HOKU HANOHANO AWARDS (39TH ANNUAL)
May 28, 2016
The Hawaii Academy of Recording Arts was patterned after the National Academy of Recording Arts and Sciences (also referred to as NARAS or the Recording Academy), which produces the Grammy Awards. Each year the Hawaii Academy produces a live television broadcast of the Na Hoku Hanohano Awards honoring the achievements of excellence in the recording arts. It has become the biggest annual entertainment event in Hawaii. Commercially available recordings created, produced, and/or engineered and primarily distributed in Hawaii are accepted for nomination. Held at the Hawaii Convention Center.
MEMORIAL DAY PARADE
May 30, 2016
It will start at Ft. DeRussy to Kalakaua Ave., To end at Kapahulu/Kalakaua/Monsarrat Aves. Grassy area fronting the Honolulu Zoo. 9am-12pm.
LANTERN FLOATING CEREMONY
May 30, 2016
The 17th annual Lantern Floating Hawaii is one of the more popular festivals all year long as more than 40,000 people converge at Ala Moana Beach Park to send off specially made candle-lit lanterns into the ocean to honor their loved ones. This is also one of the more picturesque events that takes place each year. Ceremonies start promptly at 6pm.
ABOVE AND BEYOND
May 31, 2016
This British trio known for their production and remix work, as well as their DJ performances is one of the most successful trance acts of the 2000s. Tickets $45-$125. Waikiki Shell. 6:30pm.
CHRISTOPHER CROSS IN CONCERT
May 31, 2016
The famed singer best known for his huge hit "Sailing" comes to Blue Note Hawaii for one night only. Show times are twice nightly at 6:30pm and 9pm. Tickets $35-$75.
---
IMPERIAL LOGO ITEMS
You spoke and we listened! We are bringing back our logo T-shirts and are also rolling out our new Dry Fit polo shirts!
T-Shirts - $16 + tax
Polo- $22 + tax
Tote Bags - $8 + tax
Shipping is available! Call us today at 1-808-923-1827 and get your logo items today!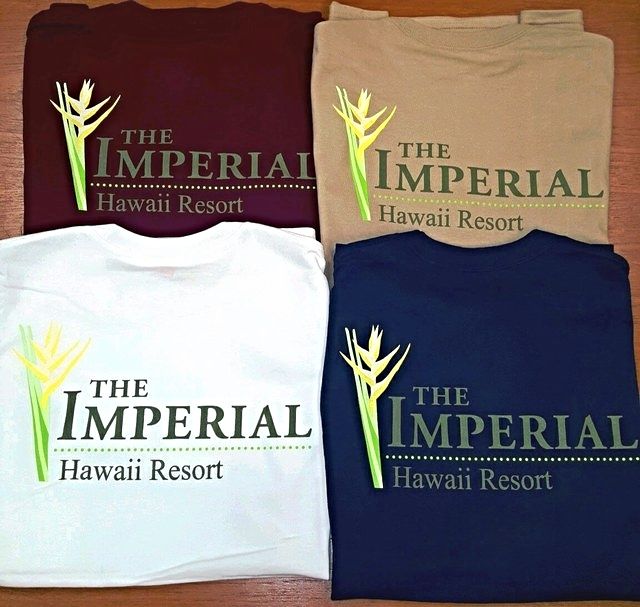 ---